Chris Ulm has been coming to Town Topic since he was "eye-high" to the counter.  His mom would drop him off at his grandparents' downtown upholstery business while she went to work as a typesetter. Sometimes after work his grandparents would take Chris out to dinner. Out of all the restaurants they visited, the only one Chris vividly recalls is Town Topic on Broadway.
Fast forward twenty years. Chris took a girl named Tina to lunch for their first date – he can't remember where they went. But their second date.…that was unforgettable. They went to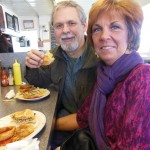 Town Topic on Broadway and took seats at the counter by the window. When Tina saw the tiny burger joint, she questioned why her new beau chose it for their date. Then she tasted her double cheeseburger and onion rings…and she knew why. Nine months later, Chris and Tina were married. That was years 28 years ago.
Over the past three decades Chris and Tina have introduced countless friends, family members and clients to Town Topic. (Check out Chris' photography at http://www.modelmayhem.com/334618). Their two sons have been eating at Town Topic since they were young, and Chris vows that if he ever has grandchildren they'll be raised on his favorite Town Topic meal – double cheeseburger (with grilled onions, of course!), French fries and a cherry malt.
After more than fifty years of eating at Town Topic, Chris still says, "Every day is a good day at Town Topic!" We agree! Thanks Chris and Tina!
Have you been coming here for years? Tell us about it at http://towntopic.com/share-your-story.html.