Remembering Larry Stewart (1948-2007)this holiday season.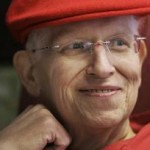 Stewart rose from poverty to become KC's Secret Santa for 26 years. After the owner of Mississippi's Dixie Diner gave a homeless Stewart $20 back in 1971, he vowed that if he ever had the means he would do the same for others…and boy did he. Stewart gave more than $1.3 million over the years – many times as crisp $100 bills to strangers on the street, in laundromats and gas stations. Beyond that, he and his "elves"… (including KC's own Buck O'Neil and former Chicago Bear Dick Butkus), would personally hand thousands of dollars to someone in need of surgery or to others devastated by hurricanes, fires and 9/11.
Stewart graced Town Topic many times to spread good cheer, and was described by one employee as "an angel from Heaven". Upon meeting him Oprah Winfrey exclaimed, "Why you are Santa incarnate right here!"  You can read more about Stewart in the book, "Santa's Secret, A Story of Hope".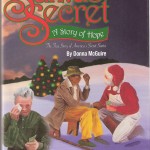 Stewart was quoted as saying, "Anyone can be Santa. You don't have to give away money. You can give a smile or look someone in the eye and listen."
I think we can all do that, don't you?