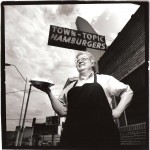 Thanks so much to Food and Wine for naming Town Topic one of America's Best Diners!
http://www.recommendeddaily.co/town-topic-tabbed-for-food-wines-americas-best-diners/
Repeat after me. I'd like a burger and a slice of pie, please.
Stools and booths? Check. Prices from another era? Check. Waitresses who will address you as 'honey' without a touch or irony? Yep. Food + Wine just learned what Kansas City has long known — Town Topic Hamburgers is one of 'America's Best Diners.' The burger joint that can be one's salvation from a rough night or the reason you weren't particularly productive at work on a given afternoon is part of the food publication's list of 23 diners across the country. Here's what Food + Wine had to say about the KC classic:
By doing the important stuff right—meaty chili, hand-dipped malts and shakes, craveable griddle-kissed burgers with onions on fresh steamed buns—Town Topic has expanded to three locations in the Kansas City area, including one that's open 24 hours.