If you've ever been in Town Topic and you saw a man furiously sketching the scene in front of him, you very well might have been witnessing local artist Trey Bryan in a moment of genius. Bryan features several drawings of Town Topic and many other KC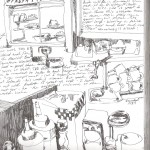 landmarks in his book "Drawings of KC". Bryan says, "I draw everywhere, sort of filmmaker with a sketchbook. I've trained myself to draw really fast, with creative accuracy and composition. I finish one 100 page sketchbook every month, in-between other freelance jobs and traveling."
Bryan used to manage a group of artists who drew outside of TT on First Fridays, and says the best times he's had at there were when he'd come in after being at the jazz houses all night. He loves that you never know who you'll see at TT. All walks of life dine there – could be a local chef who just won a James Beard Award or an internationally known musician and their crew. He describes it as "a circus where the service is always on".
Bryan loves that TT burgers taste like food – not fast food – but like something out of Norman Rockwell, where the mailman, police officer and farmer would all be in there reading the newspaper to catch up on the day's events. He tells the story of a time he was at Broadway TT late on a Saturday. The restaurant was crowded, and as he sat waiting for his food and drawing, a man came in, seemingly determined to stir up trouble. Then the guy saw Bryan drawing and said, 'Hey man, whatcha doing!? You drawing?! Aw, that's cool, I wish I had that talent!" Then the guy sat down, ate his meal, and left. He distinctly remembers an anonymous customer buying his meal for him that night.
Learn more about Bryan at www.treybryan.com, where you can also purchase his latest book, "That's My Jazz, Drawings of A Jazz Seen".