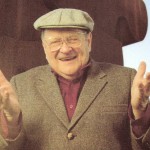 Kansas City lost a broadcasting legend this weekend when Walt Bodine passed away at the age of 92. It was always a good day when Walt graced Town Topic with his
presence. He was always so friendly and had wonderful stories to tell. Walt
loved Kansas City, and Kansas City loved him in return. Condolences to his
family.